Quest Info:
NPC:Walderal
Location:Aden warehouse
Reward: A-grade recipe>helmet,boots&gloves
Info:Saying that the Tower of Insolence is the essence of Dwarf's architecture, Warehouse Keeper Walderal wants to regain the vanished drawings of the tower. While searching the Tower of Insolence at his request, you discover a variety of ancient scrolls...

A quest for adventurers' party at levels 64~75 who are hunting at the Tower of Insolence. You can receive the recipes for A-grade helmets, boots, and gloves as a reward. In order to collect all of the drawings divided into 13 parts, exchange the items among party members. It is also said that you can receive a reward for bringing the ancient scrolls and drawings to someone...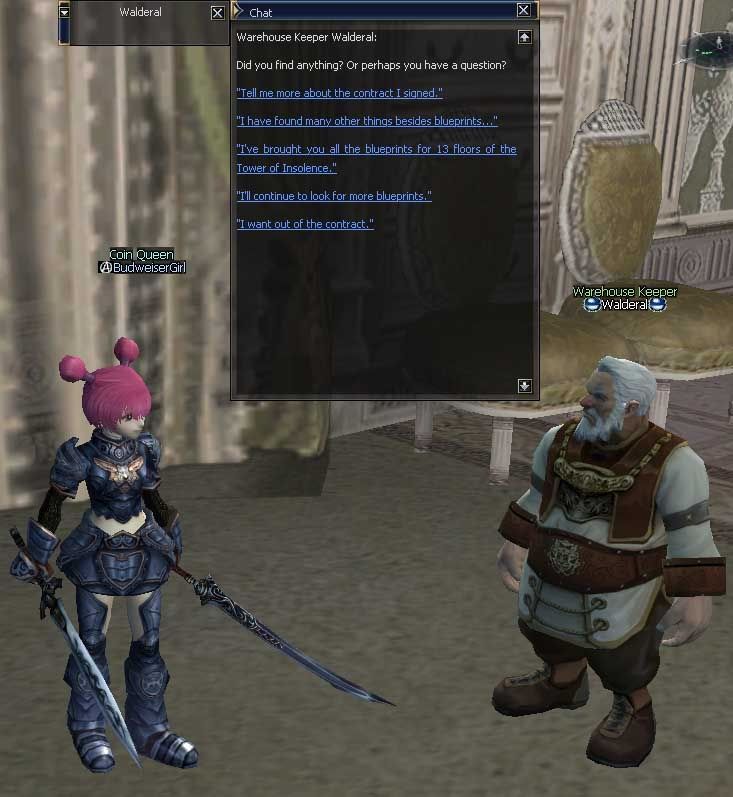 Kill these ugly monsters: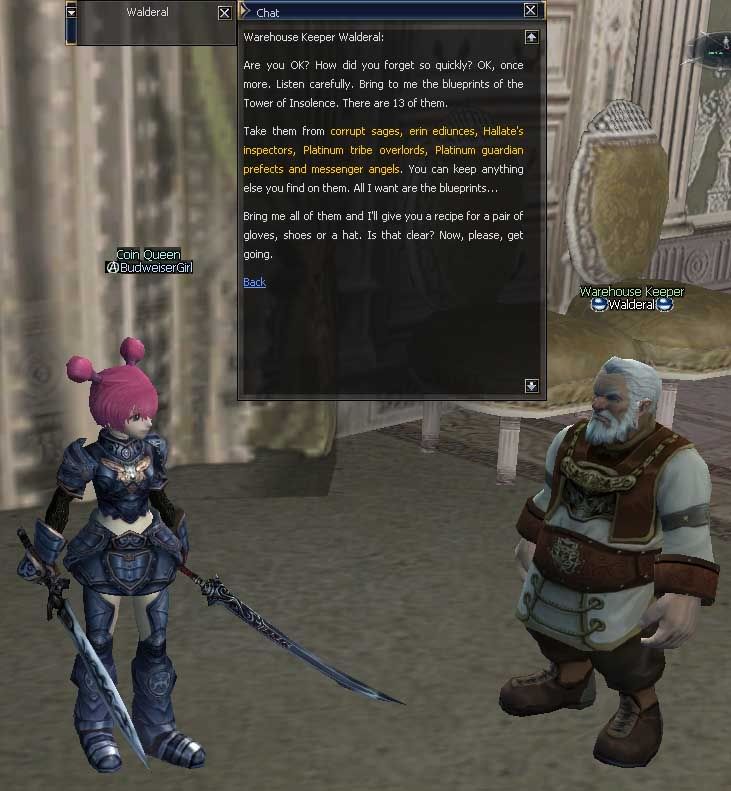 So:
Gather blueprints from TOI killing these mobs:

*

Corrupt sages

, (red papyrus)
*

Erin Ediunces

, (red papyrus)
*

Hellate's Inspectors

, (red papyrus) ( =BP #'s 6 & 7)
*

Platinum Tribe Overlords

, (blue papyrus) ( =BP #'s 6 & 7)
*

Platinum Guardian Prefects

, (white & black papyrus) ( =BP #'s 1,2,3,4,8,10,11,12)
*

Messenger Angels

, (white & black papyrus) ( =BP #'s 1,2,3,4,8,10,11,12)
(Papyrus # 5,9, & 13 unknown)


Note: You get ANCIENT PAPYRUS (4 differ types): Red/Blue/White/Black which you double click to reveal the Blueprints TOI, Revelation of the Seals, Ancient Epic chapters, & Imperial Genealogy.

Trade ins:
BLUEPRINTS from Tower of Insolence, floors 1-13 to npc Walderal @Aden warehouse: -
Select random helm/boot/glove part or recipe of your set choice Tallum/DC/Maj/NM



Revelation of the Seals

, all seven chapters, you can either turn them in to an NPC in Aden`s Mystic Guild (I think his name is Desmond) for

majestic

(glove, helm and/or boots) parts or to the NPC Claudia Athebalt North of Aden, heading to Aden Castle (you`ll spot her on the right) for

nightmare

(glove, helm and/or boots) parts.



Ancient Epic chapters

, all five of them, you turn them in to the Ancient Trader in Grocery store of Oren castle town for

tallum

(glove, helm and/or boots) parts.



Imperial Genealogy

, all five chapters, you turn them in to the female NPC in Aden`s grocery store for

dark crystal